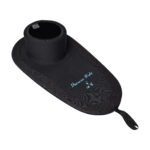 Armada is our most technically advanced sprayskirt and it is designed for whitewater paddler.
More stretchy, more comfort, increased flexibility and resistance.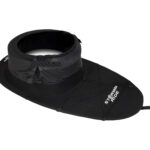 Variant neoprene spraydeck. Profiled deck made of double-laminated 3 mm thick neoprene. The top layer is SD Super Density neoprene called Small Diamond Neoprene. The bottom layer is covered with a latex seal that protects against water leakage. Also, bungee rubber sewn to neoprene with latex ensures long product life.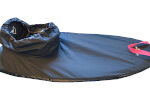 The use of an anti-slip layer on the skirt tunnel provides greater stability on the cockpit rim if the kayak is made using thermoforming technology.
The spraydeck doesn't slip off.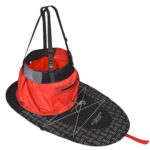 Gran Turismo GT neoprene spraydeck. 3 mm neoprene, blindstitch taped seams, latex gasket, 10 mm bungee rubber, elastic 3D print, waistband made of waterproof material adjustable with Velcro, adjustable elastic straps, zippered pocket.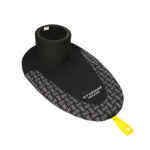 Escape neoprene spraydeck. 3mm thick neoprene. Glued and sewn seams.
Print with a thick layer of paint, additional protection on the edge of the cockpit.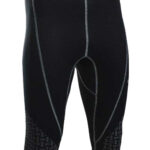 F Trik shorts are made of 3 mm neoprene. Comfortable cut that does not restrict movement. Flat seams. Screen printed with a thick layer of  flexible paint to improve fit comfort in the cockpit. Prints made with non-toxic, phthalate-free paint.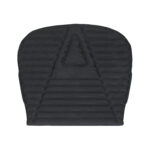 Backrest made of 10 mm foam
Neoprene pocket with overlap on the plastic backrest of the kayak.
Velcro tape to adjust the installation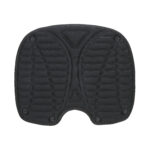 New version of the seat, 15mm thick. Waterproof foam laminated with waterproof fabric. Unique pattern.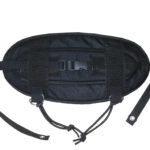 FREESTYLE KAYAK BACKRESTPAD
Backrest for the kayak seat in a competitive kayak. Adjustable to personal preferences, water-resistant fabrics. Stiffening reacting to additional overloads.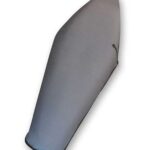 Cover for kayaks made of carbon/kevlar composites: K1, K2, K4, Polo.
Laminated waterproof fabric, impact-absorbing foam inside.